Regular price
$17.99 USD
Sale price
$14.99 USD
Unit price
per
Sale
Sold out
Share
Creamed Honey also known as whipped honey, honey butter, or spun honey is a type of crystallized honey. Creamed honey has a silky smooth texture making it easy to use and spread! 
Our creamed honey is raw honey which simply means we have not heated the honey at any time to achieve creamed honey, simply strained honey from the hives thru a large screen to remove bee parts and the creamed honey will still contain bits of wax, pollen, and propolis, very healthy!
Local New York Honey
Amount: 1 lb / 453.5 g
At Dear Honey:
NO sugar, NO preservatives, NO additives, NO coloring, NO corn syrup, NO nothin!

 

100% Natural!
We do not pasteurize our honey
We do not filter our honey. We keep the pollen and natural enzymes right where they belong: in the honey
We harvest our honey at the very end of peak flows to ensure the cleanest, purest seasonal varieties
Our honey is only heated enough to melt the honey - not to the temperatures commonly used in supermarket honey. The result is a full-bodied taste, preserving all the God-given and healthful properties of nature's oldest sweetener
Our Honey is sold in glass jars keeping your health in mind - as opposed to those sold in plastic containers
View full details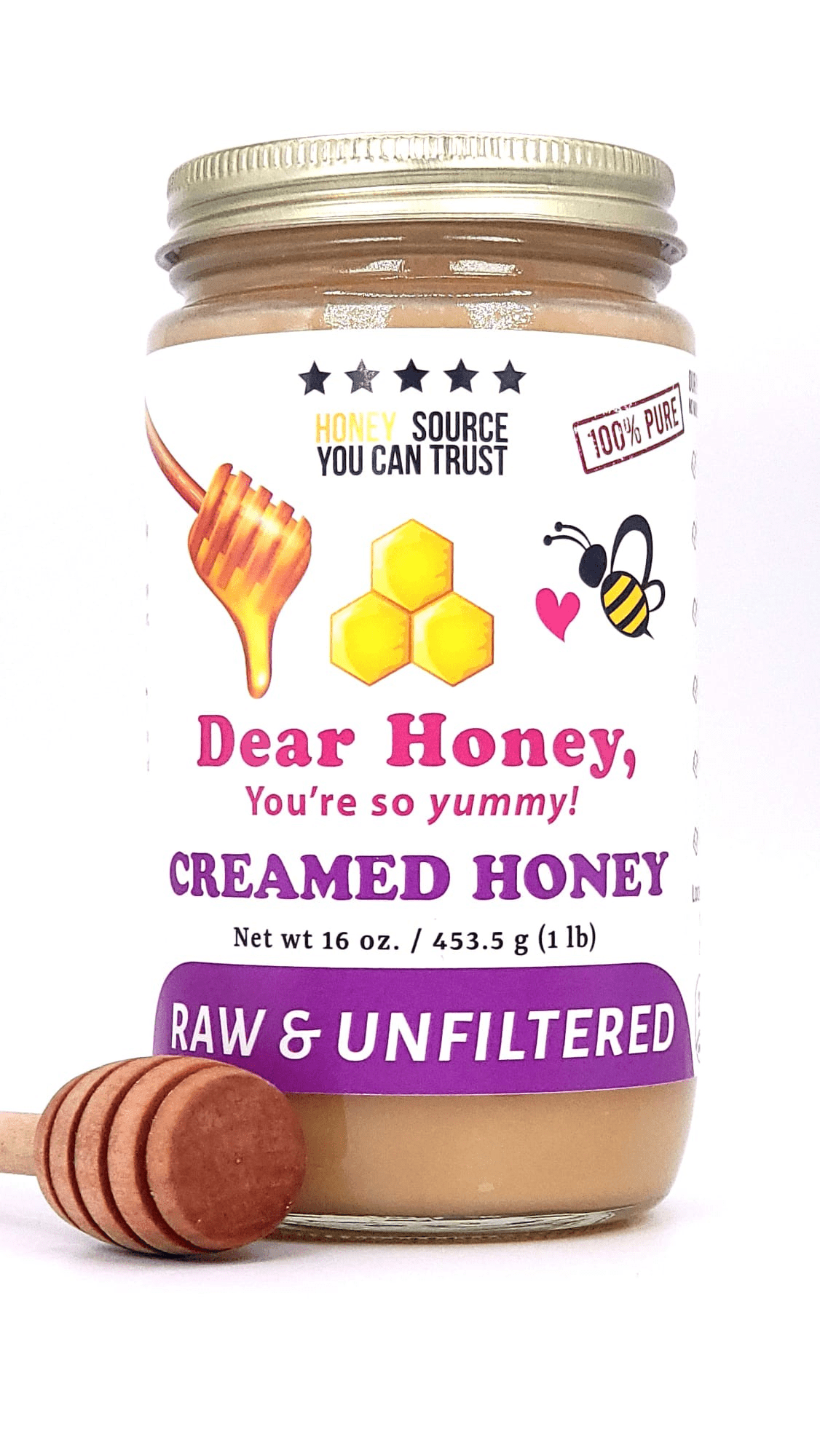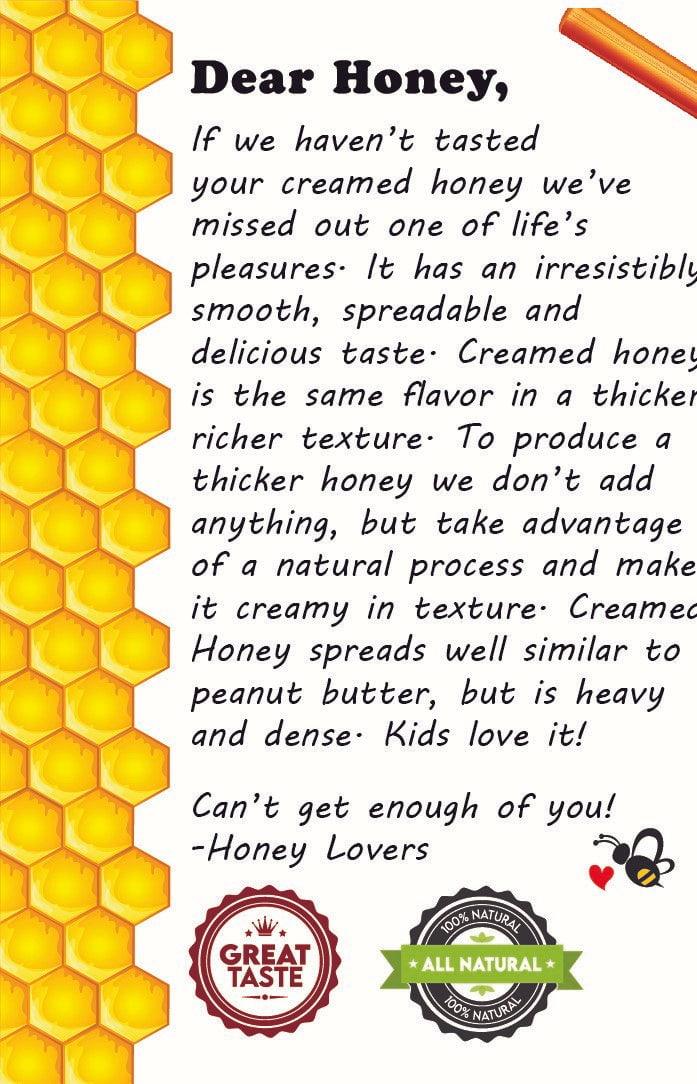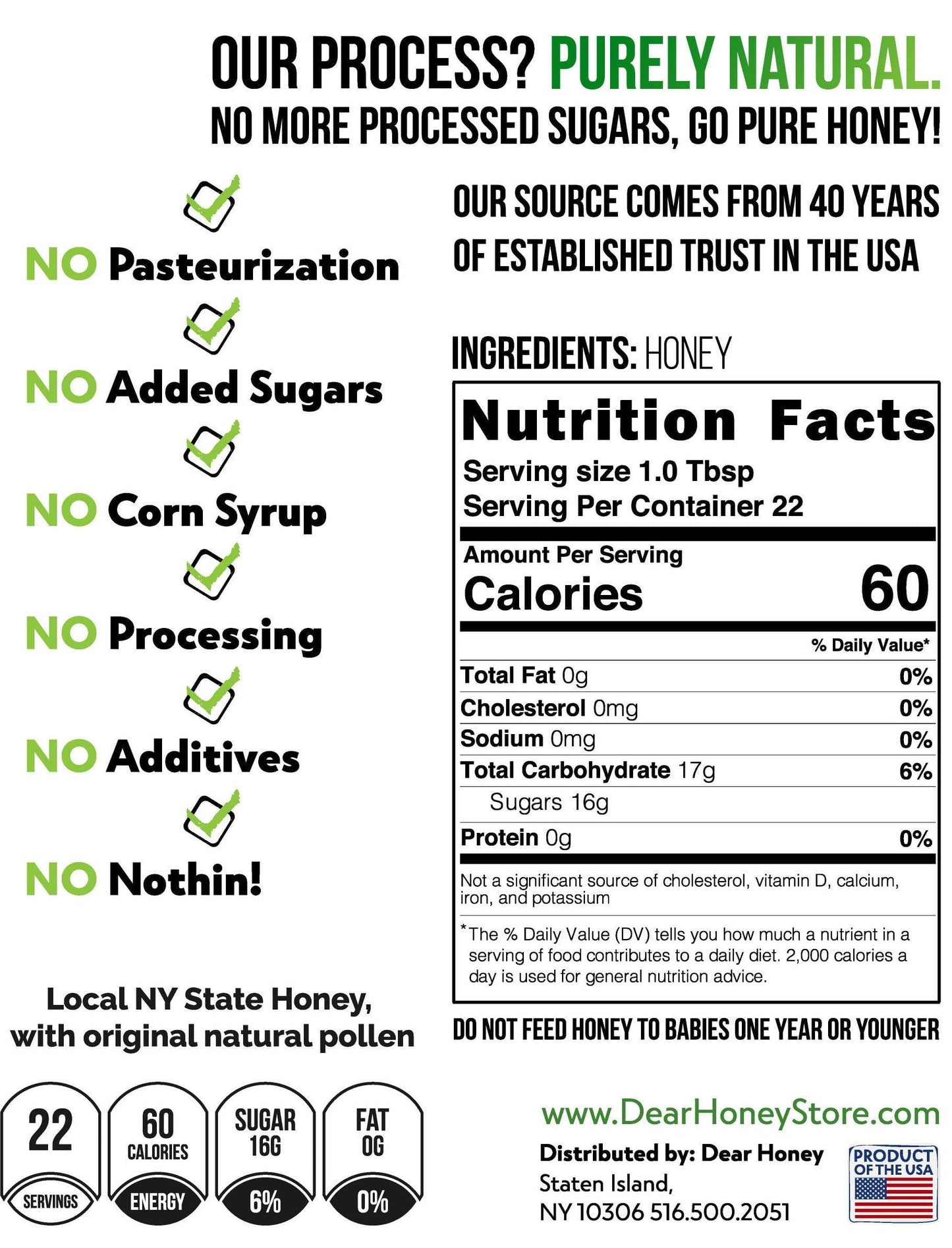 Creamed Honey 100% Pure Raw and Unfiltered
Excellent honey!
I tried the raw honey , it tastes great and I am very satisfied . I will highly recommend dear honey to all my friends . It's pure, all natural, and has many health benefits as well!
I will definitely be trying out the other flavors!!
Excellent honey
So sweet and delicious. I ordered online and delivery was very quick. Overall very happy.
Amazing!
Will definitely be ordering more and trying the rest of the flavors. We are huge honey fans.